Bermuda is Swizzlin' Country and Our Exciting Breakfast Menu is here!
The Swizzle's
Holiday Hours
Sat December 24th
Christmas Eve
Open until 10pm
Sun. December 25th
Christmas day
Closed all day
Mon. December 26th
Boxing Day
Closed all day
Tues. December 27th
Open 11am-midnight
Sat December 31st
New Year's Eve
Closed at 10pm
Sun January 1st
New year's day
Open 11am Business as usual!!
Breakfast served all day and loads of bloody marys
The Swizzle's Management and staff wish
Everyone a safe and joy filled Holiday Season!
Both great Swizzle locations are open 7 days, Mon-Fri at 11am and Sat -Sun 10am. Food served until 10pm daily. BOTH locations now serving Breakfast every Saturday and Sunday from 10am until 3pm!
Weekend Breakfast
10 am – 3 pm
Pub Breakfast $17.25
2 eggs any style, grilled tomato, baked beans, toast,
Cumberland sausage, sauté mushrooms, home fries and bacon. Good Nosh!
Fluffy Omelet $10.75
Fluffy 3 egg omelets add your choice of fillings 1$ each:
Bacon, cheese, ham, onions, peppers, chorizo
or tomato with a pile of home fries and toast on the side.
Red Velvet Pancakes $11.50
A stack of yummy red velvet pancakes with a sweet cream cheese topping and fresh blueberry garnish.
Brekkie on a Croissant $12.75
2 eggs, crispy bacon and cheddar on a buttery croissant
Home fries too!
Bermy Benedict $17
2 over easy eggs atop homemade Codfish cakes topped with grilled bananas and Hollandaise sauce and home fries on the side.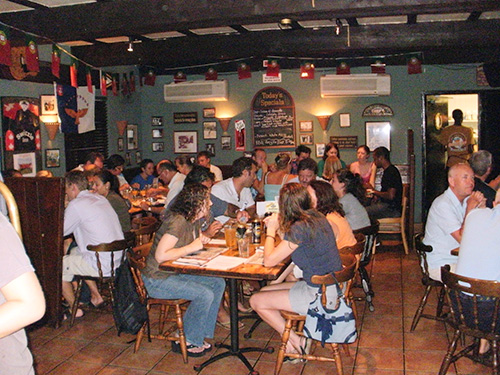 Upcoming Events
Random Swizzle
What's There To Do Nearby?
GET THE NEW EAT OUT APP!