Bermuda is Swizzlin' Country
Specials for the Week of Sept. 4th
Voodoo Shrimp $19.00
Tiger shrimp in tempura batter with a sweet soy and mirin dipping sauce.
Mama Mia Meatball Sandwich $17.50
Our homemade meatballs on a garlic baguette and topped with marinara and mozzarella, served with a Garden Patch salad.
From the Sea- Baked Salmon Filet $26.50
Herb crusted salmon filet, baked and topped with a lobster crème sauce with served with sautéed fingerling potatoes, and asparagus.
Greek Flatbread $17.50
Roasted veggie combo of zucchini, bell peppers and tomatoes, topped with crumbled feta, drizzled with basil oil and topped with crisp arugula
Chocolate Bourbon Pecan Tart $10
Sweet cookie crust, filled with buttery pecans, Kentucky bourbon, molasses and chocolate. Dark chocolate drizzle.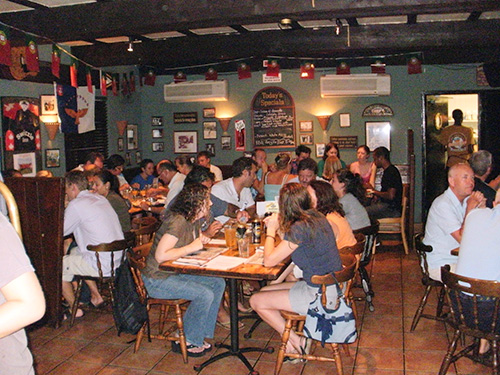 Upcoming Events
Random Swizzle
What's There To Do Nearby?
GET THE NEW EAT OUT APP!